Retailer Spotlight - Jiffy Kwick | Rogers
Vicky Rasnick, manager of Jiffy Kwick, 219 S. Arkansas St. in Rogers, recognizes the importance of creating a fun environment, especially for lottery players.
"We know our customers by name and encourage them to play the lottery. We have a designated area where players can scratch-off instant tickets, fill out playslips, and check winning numbers," Rasnick said. "I encourage my staff to take the time to show new players how to scan tickets for Play It Again® drawings and to earn Points for Prizes®."
Jiffy Kwick also conducts second-chance drawings within its store.
"I always tell my players that losers can also be winners! After they enter their non-winning tickets into The Club, we allow them to enter our store's very own second-chance giveaway," Rasnick said.
"We have our players sign the back of their losing tickets then drop them into a box for monthly drawings. Some of the prizes have been gift cards, bicycles, tents and tickets to Razorbacks® football and basketball games."
Rasnick said her store keeps its 42 lottery bins full at all times and offers one of every instant ticket available.
"Initially, we started with one tower that had about eight facings. We gradually added more instant games over the years to provide a variety to our players. Our bins are never empty because an empty bin means no sale!
"The new games are always popular, and our players love all of the crossword games. It gives them more to do, builds anticipation and keeps them entertained," she added.
Despite its surrounding competition for lottery sales, Jiffy Kwick's March sales ranked No. 1 in all of Benton County's 96 retailers. Rasnick shows that creating a fun environment toward lottery products truly pays off.
"We always try to communicate the benefit of purchasing Power Play® and Megaplier® to our players. It not only multiplies winnings for customers but potential commissions for us as well," Rasnick said.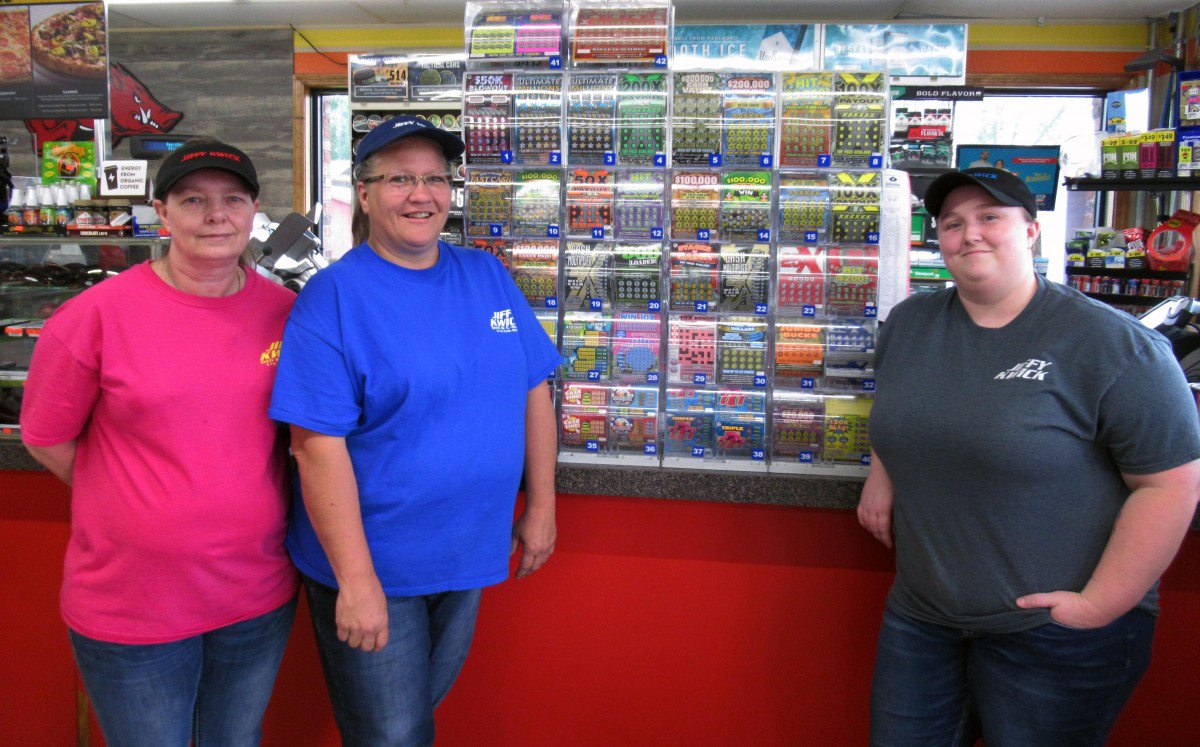 Pictured L-R: Dorothy Gaches, clerk; Vicky Rasnick, manager; and Nicole Jacobo, clerk.