Retailer Spotlight - Cabot Travel Plaza | Cabot
Sam Ali always dreamed of starting a truck stop. He and his wife, Nadiya Mandani, were able to turn his dream into reality and opened the doors of Cabot Travel Plaza, located at 3950 Highway 5 in Cabot, more than 12 years ago.
Store Manager Chris Rushing is known as the "heart of the store" and has been employed there since day one. She takes pride in making everyone feel special and quickly learns the names and habits of all of the location's lottery players.
"Our players love all of the crossword games because it takes them longer to scratch," Chris said. "It's a serious matter since they come here to win with dreams of changing their lives forever! I always enjoy hearing stories about what players would do with their winnings."
Chris added that she's not afraid to suggest a new game or upsell to players, especially since the return of the 5-Buck Bundle.
"If a player pulls out a $20 bill, it's my job to get it all," she laughs. "The Bundle has increased our lottery sales remarkably in the past, and it's been the same this year. We must keep our staff trained on selling the Bundle for continued growth."
"We ask every customer if they want to purchase a ticket for that night's drawing. If they say 'yes,' we'll suggest the 5-Buck Bundle! I also remind employees to make sure they ask EVERY player if they want to buy the Bundle."
This best practice is just one of the many things that Chris and the other employees do to make the location successful.
The employees of Cabot Travel Plaza know that it pays to display. The store has prominent placement of exterior signs, and jackpot amounts are visible from the street to help attract players and repeat customers. It also has two Play Stations – one at each entrance – making them extremely visible with easy access for lottery players. The location also had two $1 million winners on scratch-off tickets in the past.
For December, the store's lottery sales ranked No. 1 out of 20 stores in Cabot and No. 1 in all 44 stores in Lonoke County.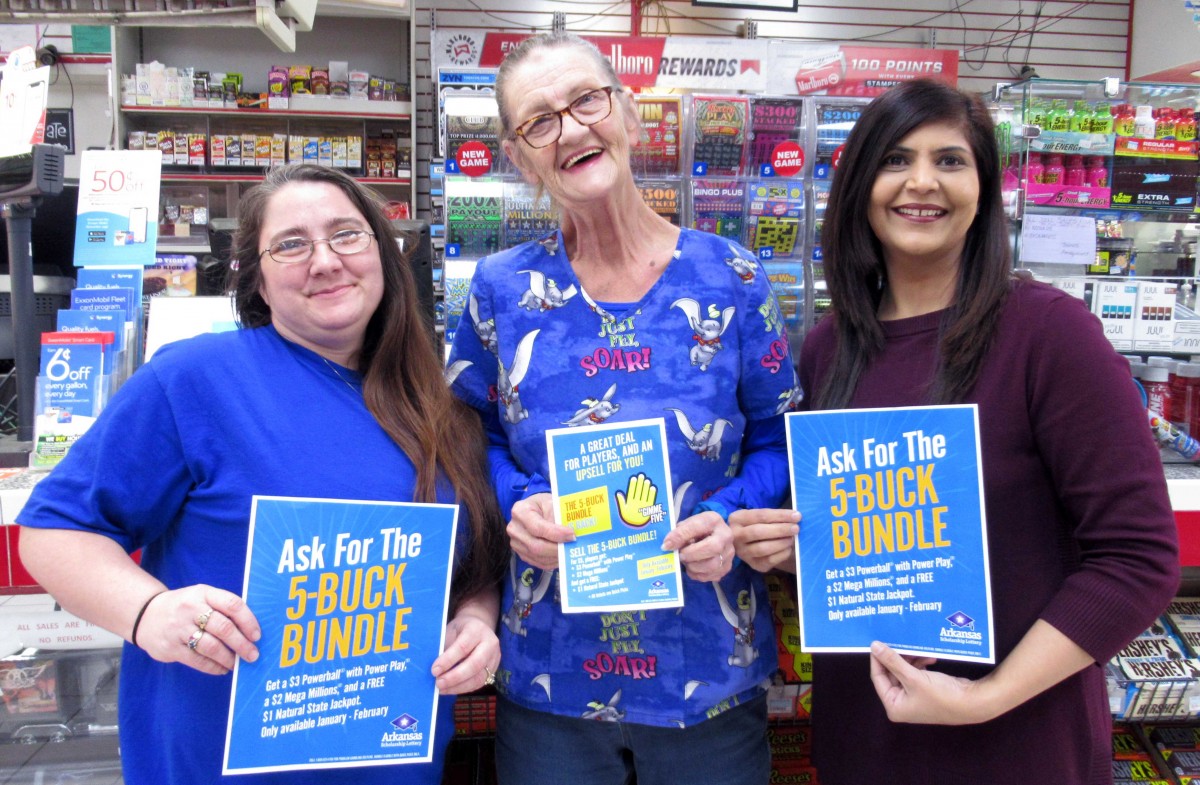 Pictured L-R: Brandy Goodman, store employee; Chris Rushing, manager; Noorin Pabani, general manager.